New arrivals working out of firm's Manchester office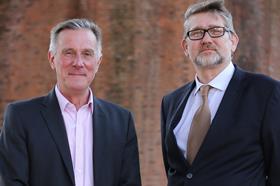 Mace has appointed two former Carillion bosses to boost its infrastructure team at its Manchester office.
Richard Dinsdale (left) has joined the contractor as operations director, while Mark Holmes (right) has been appointed associate director.
Dinsdale worked as a director for Carillion Regions and Communities for almost five years, while Holmes was a senior programme manager at the firm for six years.
Mace is working on a number of schemes across the Greater Manchester region including new transport hubs in Altrincham and Bolton.
Last week, Building revealed the former chief operating officer of Carillion is joining Mace this September to head up its major projects arm.
Andy Jones' arrival is part of a wider rejig of its £1.7bn contracting business which is being rolled out from next month.