The accident took place outside The Corniche on Albert Embankment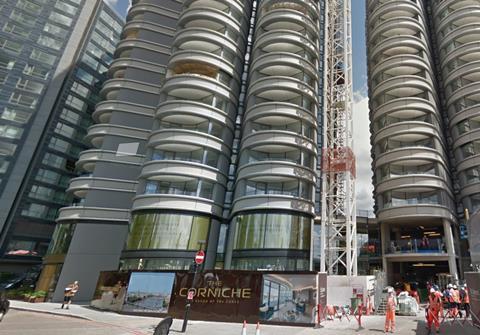 A man has died after reportedly being hit by a window that is believed to have fallen from a recently completed building in central London.
The Metropolitan Police have confirmed that a man was killed after an object apparently fell from the Corniche building on Albert Embankment.
The mixed-use tower was developed by Berkeley Group company St James, with Berkley's contracting arm wrapping up work on the building in summer 2017.
St James said it was working with the police on the investigation. The incident is also being investigated by the Health and Safety Executive
A spokesman for the developer said: "It is with great sadness that we learned of an incident at our Corniche development on Albert Embankment [yesterday] morning, in which a man suffered fatal injuries.
"We extend our deepest sympathies to his family at this incredibly difficult time. We are investigating this incident as a matter of urgency and working with the emergency services to establish what happened."
The building was designed by Foster + Partners.