Al Wakrah stadium due to complete in 2018
The Qatari charged with delivering the Zaha Hadid and Aecom-designed Al Wakrah stadium for the 2022 World Cup has vowed to realise the late architect's "impact" design for the tournament.
Main construction works start next month on the 40,000-seat stadium – which is a potential World Cup quarter final venue – being delivered by Qatari-Australian contracting joint venture Midmac and Porr.
Enabling works and the foundations for the spectator stands are already complete.
Thani Al Zarraa, the scheme's project manager, told Building during a site tour of the stadium on Tuesday that Hadid's legacy on the 2022 tournament would be significant.
He said: "We wish for her to be here. We are fortunate to have her impact but unfortunate not to have her when it's ready. We were shocked to hear this news. Everyone who knows about architecture knows Zaha Hadid. She was always very supportive of this project.
"We are continuing with her team. We still have a contract [with Zaha Hadid Architects]."
Al Wakrah's distinctive design includes a billowing white roof inspired by the sails of the Arabian pearl fishing boat, the Dhow.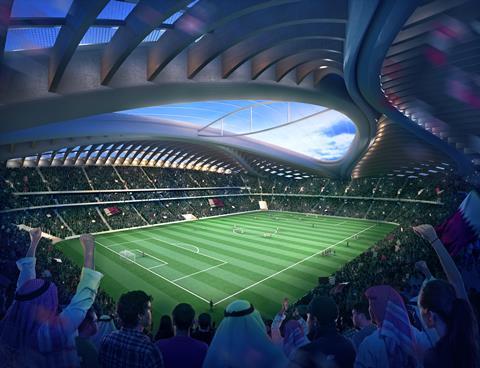 The stadium features a demountable top tier of seating, which will allow the capacity to be reduced to 20,000 in legacy mode, with the removed seating shipped to help build stadiums in developing countries. Construction is slated to complete by November 2018.
Al Zarraa also addressed the workers' welfare concerns that have dogged Qatar's preparations for hosting the tournament.
Al Zarraa, who works for World Cup organisers the Supreme Committee for Delivery and Legacy, said processes were in place to prevent abuses on Al Wakrah, including a contractually binding workers' welfare charter.
He said: "We have a dedicated worker welfare team and we have worker welfare regulation that is binding on contractors.
"There are various inspections, from our project management team, from our team, and overall for the country from the Ministry of Labour."
Last month human rights campaign group Amnesty International produced a hard-hitting report alleging workers on a separate World Cup stadium project – Doha's Khalifa International Stadium – faced systematic abuses.
The Supreme Committee responded by saying it was "committed to ensuring the health, safety and well-being of every worker".
The committee said the conditions identified by Amnesty were "not representative" of the whole workforce on the project and many of the issues raised by Amnesty had been addressed by June 2015, after the bulk of Amnesty's research had taken place.