Aecom, Arcadis and Mace among winners
More than 30 firms have claimed places on Manchester university's new £60m consultancy framework.
Aecom, Arcadis and Mace all won spots on the highest value lot, which will see firms provide project management with full design and consultant team services on projects with construction costs of more than £10m.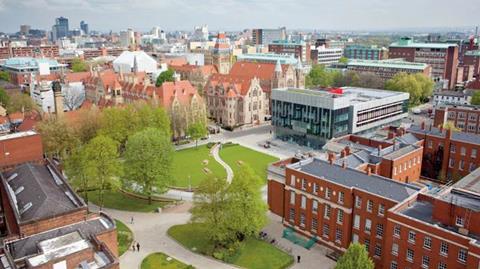 The trio are joined by Pick Everard and Rider Levett Bucknall.
Dividing up the 11-lot framework was based on both discipline and project value.
Other big names to win places on the deal are Gleeds, Mott MacDonald and Turner & Townsend.
Lots 12 and 13, which covered NEC supervisor and clerks of works services respectively, were unlet as either no tenders or requests to participate were received or all were rejected.
Construction Consultancy Services Framework
Lot #1: Architectural services — construction costs up to £2m
Bowker Sadler Partnership
The Fairhursts Design Group
Halliday Meecham Architects
Jefferson Sheard
Wilson Mason
Lot #2: Architectural services — construction costs between £2m and £10m
AHR Architects
The Fairhursts Design Group
Halliday Meecham Architects
OMI Architects
Wilson Mason
Lot #3: Cost consultancy services — construction costs up to £2m
AA Projects
Arcadis
Gardiner & Theobald
Gleeds
Keelagher Okey Associates
Lot #4: Cost consultancy services — construction costs between £2m and £10m
Arcadis
Gardiner & Theobald
Gleeds
Rider Levett Bucknall
SDA Consulting
Lot #5: Project management consultancy services — construction costs up to £2m
AA Projects
Gardiner & Theobald
Identity Consult
Malcolm Hollis
Recom Solutions
Lot #6: Project management consultancy services — construction costs between £2m and £10m
AA Projects
Arcadis
Gardiner & Theobald
Rider Levett Bucknall
Turner & Townsend
Lot #7: Project management with full design and consultant team services — construction costs over £10m
Aecom
Arcadis
Mace
Pick Everard
Rider Levett Bucknall
Lot #8: Building surveying services — construction costs up to £5m
AA Projects
AHR Building Consultancy
Arcadis
E3 Cube
SDA Consulting
Lot #9: M&E engineering services — construction costs up to £2m
DSSR
Hydrock Consultants
RPS Consulting Services
Troup Bywaters and Anders
WYG
Lot #10: M&E engineering services — construction costs between £2m to £10m
Arup
DSSR
Hoare Lea
RPS Consulting Services
Troup Bywaters and Anders
Lot #11: Structural and civil engineering services — construction costs up to £10m
Clancy Consulting
Curtins
Mott MacDonald
WML Consulting
WSP