Decade long £1bn expansion programme set to 'transform' Manchester Airport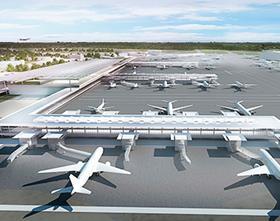 Manchester Airports Group has unveiled a £1bn 10-year programme to double the capacity of Manchester Airport.
The programme will see 60 improvements made in total to the airport, including the expansion and reconfiguring of Terminal 2 to make it the main terminal.
Terminal 3 will be improved to cater for more passengers, while self-service check-ins and an enlarged security hall to screen passengers quicker will be introduced.
Roads around the airport will also be enhanced so passengers travel more easily to and from the airport.
The work, which could start as early as April 2016, is set to double the airport's passenger capacity.
Announcing the private sector investment, Chancellor George Osborne said the plan was a "massive vote of confidence" for the north of England and in building a Northern Powerhouse.
He added: "The investment, which will completely transform Manchester Airport and double its capacity, will help ensure that it continues to compete with global airports across the world."
Transport Secretary Patrick McLoughlin said the investment will allow the airport to help meet the UK's aviation demands and claimed it "will be of huge value not only to passengers and airlines, but also in creating jobs and transforming the Northern Powerhouse's transport links."