Retailer suing contractor after the failure of glass works in a store in Manchester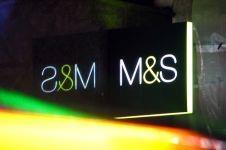 Marks & Spencer is suing contractor Lend Lease Construction for £1.42m after the "spontaneous" failure of "defective" glass works in a store in Manchester.
According to court papers filed at the High Court, Marks & Spencer is seeking to recover £1.4m in costs and lost profits from Lend Lease following the failure of glass work in its store in Longridge House in central Manchester.
The claim dates back to work undertaken by Lend Lease, formerly known as Bovis Lend Lease, in 1999 on the construction and fit out of the Marks & Spencer's store on 7 Market Street.
It states that as part of the job, Lend Lease was asked to "design, procure, deliver and fit out a toughened bolted glass system to provide a vertical acoustic wall to the south elevation of the premises".
But ten years after completion of the job, in September 2009, "one pane forming part of the glass works failed," the claim says, adding: "The failure was spontaneous and without warning. The area was cordoned off before the fractured glass fell to the ground, thereby averting the risk of serious injury to members of the public."
The court papers state that following a series of inspections the glass work was deemed to be "defective", with Marks & Spencer appointing a team including engineer Buro Happold, consultant Gleeds and contractor Audas Project Management to undertake remedial work.
The claims states that Marks & Spencer is seeking to recover the £980,000 in costs for the remedial work, as well as £444,000 in lost profits while the remedial works were carried out, bringing the total claim to £1.42m.
Lend Lease declined to comment. Marks & Spencer has been contacted for comment.