Redevelopment of the Odyssey Complex worth £100m given green light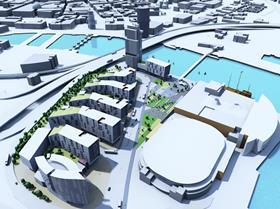 A £100m redevelopment of Belfast's Millennium project the Odyssey Complex has won outline planning permission.
The 6.9ha scheme, at Queen's Quay, involves 798 residential units, two hotels totalling 22,438sqm, 905sqm of retail space, 1,303sqm of leisure space, 2,824sqm of cafes, bars and restaurants and 1,507sqm of community and cultural use space.
It will also include a large multi-storey car park and related infrastructure improvements.
Belfast-based planning consultant Turley Associates said the project would create more than 1,000 jobs plus 800 during the construction phase.
Sheila Murphy, associate director at Turley Associates said: "The planning for this scheme was submitted back in 2009 and we are absolutely delighted with this decision. It is the largest redevelopment scheme the city has seen for many years and will complete and complement Odyssey."
Brian Hughes, operations director at developer Odyssey Trust Company Ltd, said: "The development will create a seamless connection between the city centre and the extensive Titanic Quarter, providing an extended leisure offer, new homes and much needed quality jobs."
RPS Consultants acted as consultant engineers and HJ Lyons Architects provided architectural services.
Work on the next phase of the project is expected to begin immediately.