Work on 21-storey building to start later this year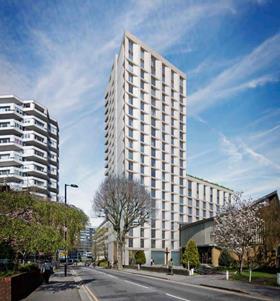 London mayor Sadiq Khan has OK'd a 21-storey residential tower planned in south London that will use trailblazing offiste building techniques.
The 153-apartment scheme on Addiscombe Road in Croydon, a stone's throw from Richard Seifert's 24-storey NLA Tower, known locally as the 50p building because of its resemblance to the shape of the coin, will be one of the tallest of its kind and feature up to 100% affordable housing.
A spokesman for developer Pocket Living said the building, designed by Metropolitan Workshop, would be put together by Telford-based offsite specialist Elements Europe – which has worked on a number of projects including Creekside Wharf in Greenwich, south-east London – "later this year".
Last year, Pocket struck a deal with the Mayor for £25m of City Hall funding to support 1,059 new Pocket homes, a third of which are expected to be built off-site.
Khan said tackling the capital's housing crisis would take time but off-site construction would speed up building affordable homes. "I invested in Pocket Living to help them build genuinely affordable homes that are sold to local people first," he added.
Last month Khan approved a £1.4bn scheme to redevelop part of Croydon's town centre, after the borough's planning committee gave it the nod.
The Whitgift Centre revamp by the Croydon Partnership – a joint venture between developers Westfield and Hammerson – is set to create 1,000 new homes and 500,000 m² of retail space.