Contractor to slash 132 jobs
Sir Robert McAlpine has confirmed it is set to cut 132 jobs because of coronavirus.
The contractor has begun a 90 day consultation with 6% of its workforce due to the ongoing covid-19 crisis.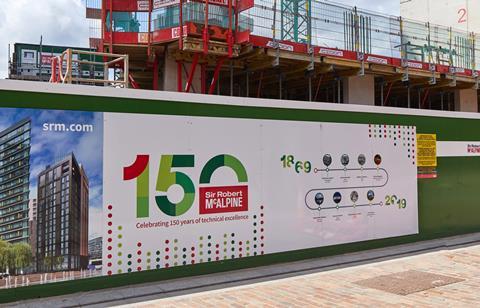 In a statement, McAlpine said the pandemic had heralded a strategic review of the firm which in its last set of results posted an £870.5m turnover in the year to October 2018.
Chief executive Paul Hamer said: "While we are seeking to do our best by our people, in the coming months we are compelled to make some very difficult decisions.
"This will unfortunately result in a redundancy process and this loss will be keenly felt within the business. The changes are aimed at enhancing the long-term resilience and sustainability of our business rather than short-term cost cutting."
The firm said it has created expanded regions in the north and the south of the country, which complement its existing London stronghold along with its civils and infrastructure business.
It also plans to focus on major projects in key sectors including civil infrastructure, healthcare, commercial offices, residential, leisure and heritage.
The firm said the its 2019 results, which cover the period to October 2019, would see profit increase from the £700,000 posted in 2018. The figure was hit by more than £20m of exceptional items which included a pension bill and the cost of reorganising its construction business.