Contractor will refurbish the library and hall at ancient organisation for barristers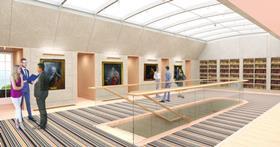 Sir Robert McAlpine has been chosen to redevelop a building at the Inner Temple near Embankment in central London.
The Inner Temple is one of four Inns of Court – ancient organisations which all barristers in the UK must belong to.
McAlpine will be refurbishing the Treasury Building (pictured), library and hall. The development has been designed by Hugh Broughton Architects and will be project managed by Bradbrook.
The project will see the introduction off education facilities such as a lecture theatre and training rooms to help the Inner Temple better deliver on its educational mission.
The Temple area of London dates to the 1150s, when a contingent of the Knights Templar moved to near the River Thames.
But many of the modern buildings were constructed in the 1800s or rebuilt in the 1950s after being damaged in the Blitz.
Sir Robert McAlpine has a dedicated special projects business, and has worked on prestigious buildings including the Elizabeth Tower, Kensington Palace Orangery, the Royal Albert Hall and Courtauld Institute.
It will start work at the Inner Temple in May or June this year, with completion due in 2021.