Essex primary due to open next year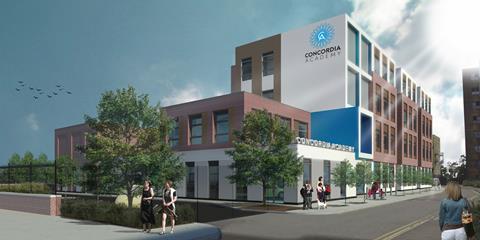 Off-site specialist McAvoy has been awarded an £8.3m contract to design and build a new 630-place primary school in east London.
Work has already started on the near-3,000 sq m school, part of the Concordia Academy in Romford, and the first of 67 modules will be delivered to the brownfield site later this autumn.
McAvoy said the modular construction would reduce disruption to the surrounding residential area and cut the building time to 12 months, in time for the school (pictured) to open for the start of the 2018/19 academic year.
Raymond Millar, McAvoy's construction director, said: "We will be using the latest advances in education design and offsite construction to create an inspiring environment for teaching and learning, and an outstanding school to help every child realise their highest aspirations."
Facilities at the school, which has been designed by Blue Sky Architects, will include a music and drama studio, 14 classrooms, a full catering kitchen and small group learning rooms. The brownfield site was formerly a nurses' home.