Retirement home specialist highlights completions' investment, part exchange deals and TV marketing spend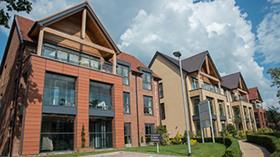 McCarthy & Stone has confirmed its operating profit for the first six months of the current financial year will be below last year's figure of £23.1m.
The retirement home builder said the downturn was a result of the level of investment required to deliver completions in the second half, additional marketing activity – including a new television advertising campaign – and an increase in the number of part exchange deals.
Last year's first half operating profit was itself down 23% on the 2015's £30.1m.
The firm said its profit would be more heavily weighted to the second half than previously expected, with first half operating profit likely to be around 12% of current market expectations for the year.
But it said a 16% increase in its forward order book to £487m and a higher level of first occupations in the second half meant it believed it would hit current market forecasts, "albeit with continuing uncertainty resulting from the government announcement on ground rents".
On the issue of ground rents, the firm's chief executive Clive Fenton said was "actively engaging with the government in an effort to secure an exemption from the proposed changes to ground rents announced on 21 December 2017.
"We believe that there is a strong case for a very specific exemption for the retirement housebuilding sector and we are seeking swift clarification on this matter," he added.
McCarthy & Stone will announce results for its half year to 28 February 2018 on 11 April.