Contractor sets up team to target local authority work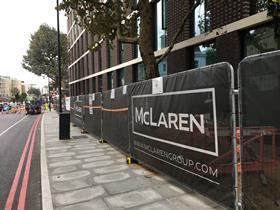 The company that will build a new London head office for Lebanon-based consultant Dar has said it is setting up a team to win more public sector work as Brexit looms over the industry.
McLaren will start work on the £80m scheme in High Holborn by the middle of this year once demolition contractor John F Hunt completes work tearing down the existing buildings at the site, a stone's throw away from the headquarters of supermarket firm Sainsbury's.
The London-based contractor reported a hike in profit to £3.6m for the year ending July 2018, despite turnover dipping 3% to £586m.
And it said it had so far experienced "no discernible slowdown…in either business or enquiries" since the Brexit vote.
But the firm, which has been working on a £35m mixed-use scheme by architect AHMM to turn the former London headquarters of the Guardian newspaper in Farringdon into offices (pictured), admitted: "The construction industry may be affected by a decline in the economy and uncertainty around Brexit."
As a result, the group said it was diversifying into new markets and is "looking to expand significantly" its UK public sector work.
McLaren added it was setting up a new team in order to develop local authority relationships and work on bidding for frameworks and development opportunities.
Last month it was one of three firms to win a spot on a framework in east London for Barking and Dagenham council's regeneration company Be First.
The first job on this framework, known as Lot 2, will be carried out by McLaren and is a scheme to turn a rundown 1960s office block on Barking's Cambridge Road called Crown House into a residential development of nearly 400 flats.