Developer Quintain is starting to ramp up delivery of its 85-acre residnetial-led scheme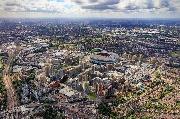 McLaren has won two contracts worth over £90m at developer Quintain's Wembley Park scheme in North London.
The contractor is to deliver 320,000 sq ft of residential and retail space across two blocks rising up to 15-storeys in height on one plot at the 85-acre scheme to house 340 build to rent units.
At a second plot the firm has signed a contract to carry out enabling works and a pre-construction services agreement for the project.
Both developements are due to complete between next year and 2019.
John Butten, regional managing director at McLaren's major projects division, said: "Following the successful appointment to Quintain's contractor framework, we are extremely pleased to be awarded this project next to Wembley Stadium.
"Our commitment and dedication working with Quintain and the design consultants to achieve success has been rewarded by the further appointment to a PCSA stage on the adjoining plot which is due to be awarded later this year."
Matt Voyce, executive director for construction at Quintain, said: "Our 85-acre development at Wembley Park is set to become the largest single build to rent site in the UK and seeing it evolve over the last decade has been a real privilege. We look forward to working with McLaren on these two pivotal plots adjacent to the National Stadium.''
Quintain ealrier this year annoucned that it planned to have 3,000 private rental sector (PRS) units on site by the end of the year, after its US owner - investor Lone Star, which bought the developer 18 months ago - identified the sub-sector as the best way to maximise value from the project.
Matt Voyce, construction director at Quintain, previously told Building the developer was committed to upping the pace of construction at Wembley Park: "There's always been a project on site, but it's tended to be one project at a time and that in itself is challenging because of the scale of the plots, but we're now taking it to a different level."
The scheme has a contractor framework which includes McLaren, Carillion, John Sisk & Son and Wates, but Voyce has said he was open to working with new contractors.
"We felt that having a nucleus of contractors would allow that to come to the fore, but it isn't a closed shop and we are talking to other contractors and we have others on site," he added.
Quintain expects activity at the site to peak in the middle of next year withh the 3,000 PRS units complted by 2020 and the entire development finished by 2024.
Voyce added: "What we can't allow is any slippage on delivery because we have to be quite cogniscent of absorption. We've got a lot of units coming across and the challenge my Tipi [Quintain's build to rent business that will manage the PRS units] colleagues are going to have is letting them all so we've got to give them the best opportunity."
Quintain has already invested £900m in the transformation of the site around Wembley Stadium since its acquisition of Wembley (London) Ltd in 2002.
In November last year the firm secured £800m of new funding for the next five years, a year after the company's £745m takeover by US investor Lone Star.