Leading industry figures call on newly-elected mayors to boost housebuilding and invest in infrastructure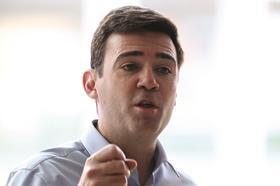 Leading figures in the construction industry have called on England's newly-elected metro mayors to use their powers to invest in local infrastructure, boost housebuilding activity and develop transport links.
The six regional "super mayors" have the authority to spend billions on improving roads, rail and airport facilities, housing, and have an opportunity to boost economic growth by encouraging private investment.
Industry figures warned the successful candidates that their bold campaign promises would mean little if they cannot deliver.
Ann Bentley, Birmingham-based chair of global consultant RLB, said the new metro mayors can offer a lot to construction "by delivering what they said they were going to do". Her mayoral "shopping list" includes a regional plan for the assembly and release of sites for residential use with a strong emphasis on affordable housing.
Bentley also wants to see "a thought-through transport strategy", which would lead to the linking up of newly-created development zones. She added: "I also think that the mayors should look at the buying power of the local authorities within their mayoral areas and change some of the client behaviours around procurement of construction and construction services."
Adrian Hames, a Cambridge-based director at WSP, said metro mayors should be empowered to become "local clients" with the financial resources to produce comprehensive local development strategies.
He said: "If this doesn't happen, there is a risk that they will simply only be applying influence and convening power. They should enable a stable longer-term pipeline of infrastructure projects to give the private sector greater investment confidence, such that the six new mayors provide place-based identities that will promote cities and regions and help attract investors."
Meanwhile, Steve Gillingham, Manchester-based director of the North at Mace, said it was vital that the new powers of Greater Manchester mayor Andy Burnham be applied firmly, and the full authority of his office used to improve infrastructure, narrow the skills gap; and address the productivity of the workforce.
He said: "It's never been more important that Greater Manchester has a strong mayor who will lead the charge to deliver economic prosperity and a better quality of life for the thousands of businesses and millions of people living in our city region."

England's six metro mayors: What they offer construction
Tim Bowles - West of England (Conservative)
Previously a local councillor in Gloucestershire, Bowles will have a budget of £1bn to plough into areas such road improvements and new homes. He has stated he wants to see a number of closed railway stations re-opened, wants to prioritise urban regeneration, ease the pressure for greenfield development, and build more on brownfield sites. Other campaign promises included upgrading essential local infrastructure and improved transport links.
Andy Burnham - Greater Manchester (Labour)
The former health secretary under Gordon Brown, Burnham has said he will seek to renegotiate the terms of the £300m Greater Manchester Housing Fund "so that it can be used to help councils and housing associations build more council homes and social housing". Transport improvements Burnham has cited include new cycle lanes, (using disused railway lines), expanding the city's Metrolink network and refurbishing the region's railways stations and rolling stock.
Ben Houchen - Tees Valley (Conservative)
Businessman and one-time councillor on Stockton-on-Tees local council, Houchen narrowly secured becoming Tees Valley's first mayor, overseeing Darlington, Hartlepool, Redcar and Cleveland, Middlesbrough and Stockton councils. At £15m, his is the smallest of the six mayoral budgets. Among campaign promises was his "taking control" of Durham Tees Valley airport and aspirations to restructure the Cleveland police force and build a new town in the region.
James Palmer - Cambridgeshire and Peterborough (Conservative)
Palmer, formerly leader of East Cambridgeshire District Council, promised during his campaign to simplify the planning system, improve the co-ordination of public investment in infrastructure, support "timely connections to utilities" and "tackle unnecessary delays by giving councils and developers the tools they need to build more swiftly". An investment fund of £800m will support affordable housing, as well as help small housebuilders and housing associations to build more homes.
Steve Rotheram - Liverpool City Region (Labour)
Labour MP Steve Rotheram held the safest seat in the UK, Liverpool Walton, until he was elected mayor of Liverpool City Region in last week's local elections. Rotheram has perhaps the greatest insight into the construction industry, having been a bricklayer and having set up his own construction company. A committed supporter of the northern powerhouse, he will oversee a budget of nearly £500m to invest in regeneration projects and other initiatives.
Andy Street - West Midlands (Conservative)
Street gave up his job as MD of John Lewis to run for mayor and was also chair of the Greater Birmingham and Solihull Local Enterprise Partnership, overseeing government investment in business and transport infrastructure across a region including city councils in Birmingham, Coventry, Dudley and Wolverhampton. With a budget of £8bn, Street will have oversight of transport and has identified road, rail and metro improvements as a priority. He wants to boost skills, build more homes with an emphasis on brownfield sites, and provide infrastructure to match.