Former Building columnist to lead payment crackdown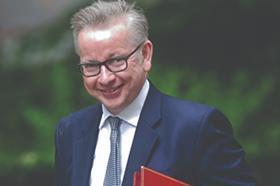 Name: Michael Gove
Role: Chancellor of the Duchy of Lancaster (head of the Cabinet Office)
Constituency: Surrey Heath
Replaces: David Lidington
Biography: Gove is from Aberdeen, the adopted son of Scottish Presbytarians. He worked at The Times newspaper, latterly as assisitant editor, before joining parliament in 2005. Between 2008-2010 he wrote a series of columns for Building, while looking after the children and families brief in the shadow Cabinet. He was secretary of state for education for four years, during which time he pushed for standardisation of school design – but also lamented a lack of "beauty" in new developments. He has since served stints as justice secretary, chief whip and, most recently, as environment secretary.
What this means for industry: The Cabinet Office has threatened to bar government suppliers from more work if they do not pay 95% of invoices in 60 days from September. Most construction firms do not manage this, so it will be down to Gove – widely considered in Whitehall as an effective reformer – to decide the degree of crackdown.
As the Cabinet Office is responsible for overseeing public procurement, Gove will also oversee a new procurement system to replace the Tenders Electronic Daily − the European public procurement journal. This contains all active notices published in the Supplement to the EU Official Journal and gives access to the journal's archives for the past five years. But perhaps Gove's most significant work for construction – and the rest of the economy – will be on preparing government and the country for a no-deal Brexit.
The Rt Hon Michael Gove @michaelgove has been appointed Chancellor of the Duchy of Lancaster @cabinetofficeuk pic.twitter.com/F0WMudtRBR

— UK Prime Minister (@10DowningStreet) July 24, 2019