Housing minister Kit Malthouse says pent-up demand for homes is making people accept poor design and quality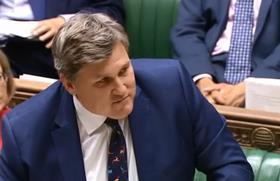 New housing minister Kit Malthouse has taken housebuilders to task, complaining there is "not much" quality design in the new homes being built and that buyers are turning a blind eye to eyesores simply to get on the housing ladder.
Malthouse, who was appointed to the housing portfolio in July's cabinet reshuffle, made a series of swipes at housebuilders in a speech at this week's Conservative Party conference in Birmingham.
He told a fringe meeting organised by the Town and Country Planning Association that if the public was going to get behind the government's plans to increase the number of homes being built in the coming years to 300,000 a year, they had to be better designed.
"People are taking houses even though they may have misgivings about design"

Kit Malthouse, housing minister
He said: "Design, alongside volume, is a key part of getting the wind of public opinion behind this very large-scale housebuilding that we want.
"It's not just building volume but neighbourhoods. It can't just be a soulless set of houses. I would like to see both councils and developers conspire to build the conservation areas of the future."
And he said would-be buyers were having to put up with second-rate designs simply to buy a home. "Such is the pent-up demand and desire for homes, that people are taking houses even though they may have misgivings about design and quality."
He said developers would encounter fewer hurdles securing planning permission if their designs are more acceptable.
"These large-scale developments will decide the look and feel of the nation and entire towns for decades to come. The importance of design will be absolutely key."
But housebuilders have limited incentives to compete on design quality due to the domination of the sector by a small number of big companies, Malthouse said.
"This is a highly regulated market and agglomerated into a small number of players. Part of my job is to disrupt the market because we want to find the next [Barratt founder] Lawrie Barratt or the Dyson of housebuilding."
Malthouse, who represents a rural Hampshire constituency, said that fast-tracking good design through the planning system would give developers a commercial incentive to invest more in quality.
He also called on local authorities to be a "bit tougher and sharper" when negotiating viability assessments.
But Martin Tett, leader of Buckinghamshire county council, said cutbacks in planning departments were limiting what local authorities could do.
He said: "The ability to have really protracted discussions or refuse permission on design grounds is relatively limited today."