The outsourcing giant saw growth in profit, but drop in revenue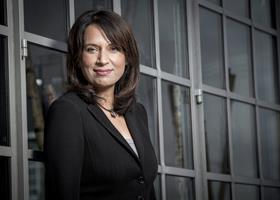 Mitie has double profit for the year despite the business facing economic "headwinds".
The outsourcing giant posted a 134% jump in pre-tax profit to £96.8m for the year to March 2016, up from £41.5m last year.
However, as previously warned in March, Mitie posted a dip in revenue to £2.23bn, down from £2.27bn the previous year.
The group said it had been impacted by lower UK growth, further government spending cuts, increasing labour costs and uncertainty relating to the upcoming EU referendum.
The dip in revenue was also partly due to new contract awards not being mobilised until late in the financial year and delays and cancellations to some project works.
Mitie expects new contracts starting in the 2016/17 financial year will boost its revenue and underpin a return to modest growth.
Ruby McGregor-Smith (pictured), chief executive of Mitie Group said: "We continue to see a range of good outsourcing opportunities across our key markets and anticipate modest growth in the coming year. We remain positive about the group's prospects for the future."
The group's facilities management arm had a "strong" year, boosted by major contract wins including a £40m five-year deal with Deloitte to provide a range of facilities management services across its UK estate and a collection of soft and hard facilities management services contracts totalling £100m for up to five years for JLL. The division also won a £100m five-year contract with NHS Property Services, a private company set up by the Department of Health to manage all the ex-primary care trust estate.
However, growth was held back by clients changing their spending patterns and delaying or canceling projects due to the UK general election and the impending EU Referendum. This was particularly evident in the Hard FM division which saw its profitability "negatively impacted". But in response, Mitie said it cut expenditure and delayed and cancelled some of its own projects to maintain a "healthy" level of profit.
It was a year of "two halves" for the group's property management arm as social landlords, following a period of increased spending in the first half of the financial year, found themselves having to reassess their spending and defer project work as the ramifications of the government's plans to reduce the housing benefit bill. This impacted on revenues and profits from the division.
Meanwhile, the group said its healthcare business had a "challenging" year as the division's local authority clients found their central government funding substantially reduced, increasing demand for services caused by demographic shifts and an inability to increase council tax.
Mitie said it had reduced the scale of its social care operations and would now be "highly selective" with the work it takes on in this area.
Mitie has also rearranged its structure combining the management structures of its property management and healthcare businesses to create one services business and combining parts of its soft and hard facilities management divisions.