Contractor appointed exclusive installer for National Landlords Association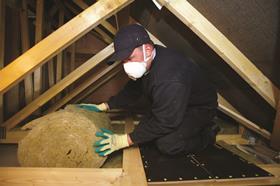 Mitie has been appointed exclusive Green Deal installer for the National Landlords Association (NLA), which represents 1.4 million landlords nationwide.
Richard Lambert, chief executive of the NLA, said the partnership will allow the NLA to offer its members "an end-to-end, cost-effective" Green Deal service.
By 2016 private landlords will be unable to refuse reasonable requests by their tenants for green deal improvement, and by 2018, they will be unable to rent properties that have an F or G energy performance rating.
Stephen Giacchino, director for strategy and corporate development at MITIE, said: "This is a great opportunity for MITIE to further expand its domestic energy services offering.
"We are looking forward to working with the NLA to help landlords maximise the investment benefit that the Green Deal brings to their portfolio, while delivering energy savings and increased comfort to their tenants."
Mitie's contract with the NLA is for one year, subject to renewal.