Troubled services firm says corporate overhaul to be complete by summer of 2020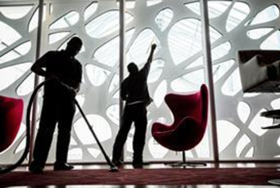 Services group Mitie says it has been "actively engaging" with investors in recent months as it seeks to turn its fortunes round after posting a £21.6m loss last year.
The firm is currently shedding nearly 500 jobs as part of a corporate overhaul and said it had "largely concluded" a transformation in its finances, while it was "comfortably within its banking covenants".
In a pre-close trading update, Mitie said net debt for the year to the end of March was likely to be between £50m and £70m higher than last year's figure £147m.
The group said revenue growth for the year would be in the region of 2% to 2.5% at £2bn.
What it called "solid performances" in all divisions had been partly offset by a weak showing by its property management arm, an operation it had planned to sell but withdrew from the table last December.
Mitie said its restructuring programme was expected to be finished by the summer 2020 and would deliver around £50m of overall run-rate savings, 10% higher than previously forecast, by March of that year.
Costs associated with the programme, called Project Helix, would be £35m in the current financial year, instead of the previously forecast of £24m.
The main causes of the increase were the speed with which it was consolidating its property portfolio and what Mitie called "higher transformation-related consultancy support".
Phil Bentley, Mitie's chief executive, said the liquidation of Carillion had raised "some fundamental questions about the outsourcing industry.
"Managing the buildings and the workplaces of our clients is a complex business, but our expertise, scale and focus continue to be valued by our clients.
"The year ahead will remain challenging as we continue to transform Mitie, but we expect to see modest revenue growth with improved profits and cash flow generation."
The firm is due to publish its full year results for the 12 months to the end of March on 7 June.