Aecom's construction services division initially targeting commercial and residential schemes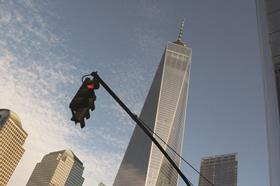 Clients and rival consultants have given a mixed reaction to the launch of Aecom's UK contracting business, welcoming the launch of a new business proposition, but expressing concern about the firm's ability to provide independent consultancy advice under a combined business model.
Last week Aecom confirmed it has launched a contracting business in the UK initially targeting mid-size commercial and residential schemes.
The US-based construction giant - with global revenue of $19.2bn (£12.7bn) - is best known in the UK as a consultant and engineer, having largely built its 7,400-strong UK business through the acquisitions of QS Davis Langdon and engineer URS.
But Aecom confirmed last week that it is now targeting becoming a major player in the UK contracting market. Aecom's UK construction services division has already picked up five construction contracts and £50m in revenue. The firm says it is initially targeting projects worth between £5m and £40m, but says its long-term target is to pursue projects worth up to £100m and beyond.
Aecom has recruited three former Bovis Lend Lease directors to oversee the venture. John Hilton will lead the UK construction services division, John Spanswick has joined as non-executive director for construction services in the UK and Europe, and Mike Fletcher has been hired as EMEAI construction services chief executive.
Aecom already carries out contracting work elsewhere in the world, most notably in the US, where its subsidiary Tishman built New York's One World Trade Center skyscraper (pictured).
Commenting on the news, Peter Rogers, co-founder of developer Lipton Rogers, said he was "nervous about the one-size-fits-all approach" associated with "major conglomerates". He added: "We call it the grit in the wheel - you want to have some challenge between project team members. I don't know how you get that in a major conglomerate."
But Rogers said he was open-minded about Aecom's UK contracting launch: "Can you do the best design and construction in one place? I'd love to see it […] We'll wait and see."
Richard Steer, chairman of rival consultant Gleeds, said combining consulting and contracting was "not a new offering" in the UK, noting that Mace and the former Bovis Lend Lease business offered similar combinations of services.
Steer said clients may be sceptical of a "one-stop-shop offering", adding: "I know of clients that have moved from a consultant to a contractor [within the same group] who have been hood-winked because they haven't had an independent assessment of the project [from the consultant]."