Houses will be built at Ilke's North Yorkshire factory
Modular provider Ilke has won a contract alongside housebuilder Keepmoat to provide 123 homes for South west housing association Abri in Highbridge, Somerset.
Abri, a 35,000-strong association formed from the merger of Radian and Yarlington in 2019, has signed a deal with Ilke and Keepmoat to develop the homes on the Homes England-owned Brue Farm site.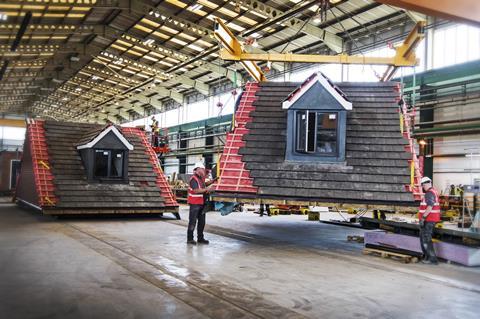 All of the homes will be affordable, with 60 available to rent and the rest for shared ownership. They will be manufactured at Ilke's 250,000 sq ft factory (pictured) in Knaresborough, North Yorkshire, before being delivered to Brue Farm.
The deal is the latest in a string of contracts for Ilke signed since the modular firm - which has the backing of Homes England - was forced to open a redundancy consultation with some staff earlier this year because of the covid-19 pandemic.