1,700-place facility due to be built near Market Harborough
The Ministry of Justice has launched a consultation on plans for a new Leicestershire prison as part of its £4bn expansion programme.
The department has published details of its plans for a category B training prison near Market Harborough on a site next to the existing HMP Gartree. Category B training prisons hold long-term and high-security prisoners.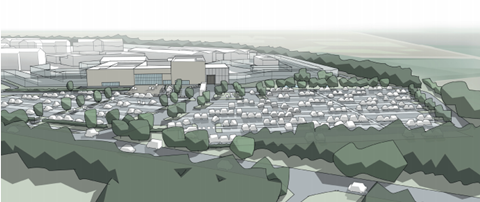 It is part of a wider plan to build 18,000 extra prison places – 10,000 of which will be provided across six new prisons.
In the consultation document, the MoJ said it was proposing to build seven separate prison blocks, with each block holding around 240 prisoners as part of the East Midlands project.
Each block will have four floors, with 60 prisoners on each, while the overall capacity of the prison is 1,715.
The prison will also have some support buildings including a reception area, kitchens, workshops, a visits hall and offices. These buildings will range from one floor to four floors high.
There is also a green focus for the new facility - with the government saying it will be targeting an excellent BREAM rating at the least but will aim for an outstanding BREEAM rating.
It added it would reduce waste by using modern building methods, meaning at least 95% of waste will be re-used so it doesn't go into landfill.
The document also revealed that the MoJ was considering separate options to expand the existing HMP Gartree as part of its overall plans to deliver 18,000 prison places across the prison estate.
It said: "Plans are still at a very early stage and no decisions have been made as to whether to proceed with these proposals. If these plans are progressed, this will be a separate planning application.
"Unlike the proposals to build a potential new prison on land next to HMP Gartree, we are not at a stage for public consultation for any potential expansion of the existing prison."
Firms already working on the overall expansion programme include Kier, which is currently building the £253m HMP Five Wells, the new jail at Wellingborough in Northamptonshire, while Lendlease has started works at Glen Parva, Leicestershire – where costs have skyrocketed from £170m to £286m.
The consultation will run until 2 August with the MoJ also hosting digital engagement events on 15 and 16 July.