Tory MP's retentions bill set for second reading in April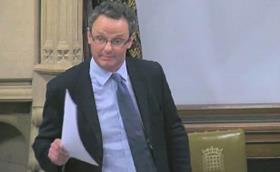 More than 60 construction and maintenance trade bodies have thrown their support behind the bill looking to protect retentions in the construction industry.
In the wake of the Carillion collapse, the trade bodies are backing the 'Aldous Bill', which proposes cash retentions owed to the supply chain be held in trust.
Tory MP Peter Aldous introduced the bill to parliament on 9 January.
The support comes from across the industry, including those working in electrical, plumbing, heating, interiors, house building, roofing, scaffolding and demolition.
Major trade bodies in support include the Federation of Master Builders and the Federation of Small Businesses.
Electrical Contractors' Association, director of business Paul Reeve said: "Quite simply, the time for major change to retentions is now.
"Putting retentions in trust would help to protect the supply chain from future upstream insolvency, and it would reduce the amount held in retentions when buyers see that they can no longer use suppliers' cash to support their own business model."
Aldous said the coalition of support showed the urgent need for reform and unity of industry following Carillion. "Support covers so much of the industry that we now have a golden opportunity to change construction for the better.
"I hope government gets behind industry and this Bill.We need action to protect SMEs before more millions are lost, and this Bill is about ensuring people's money is safe so businesses can grow and invest in their future."
The bill, which had its first reading six days before Carillion collapsed, seeks to ensure payment retentions are protected in special ring-fenced deposit schemes, to minimise damage to the supply chain in the event of insolvencies.
The second reading of the bill is set for 27 April.