Councils to be given update on scheme's progress at high-level meeting next month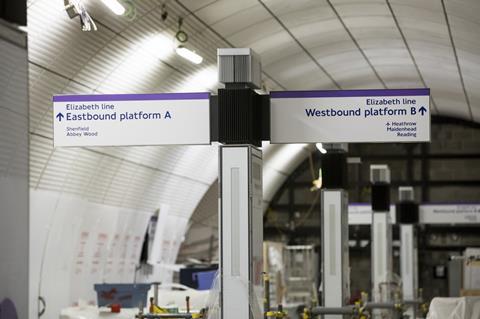 A letter sent by the chair and deputy chair of Crossrail to the leader of a Berkshire council has revealed more than 6,000 people were working on Crossrail sites at the start of this month.
In the letter, which was sent to the leader of Windsor and Maidenhead council Simon Dudley, Crossrail chair Tony Meggs and deputy chair Nick Raynsford said reducing expenditure on the £17.6bn scheme was a top priority.
Crossrail will run from Reading in the west, via Madienhead, to Shefield in the east through a central London section which includes new stations at Paddington, Farringdon and Liverpool Street.
The letter, which was sent nearly two weeks ago, said: "Over 6,000 people are still working on site with a huge number involved in completing fit-out and testing and commissioning core systems.
"We need to complete construction activity as soon as possible and for Tier 1 contractors to demobilise their delivery teams so that we can move ahead with integrating the new stations with the rest of the railway."
The pair said it was a "priority for us [Crossrail] is to ensure that costs are kept under control".
A very informative letter from @Crossrail on progress of the project. They are wise not to give a definitive timetable until they have the necessary assurances. The new @TfL 345 Elizabeth line trains from December 2019 to and from #Maidenhead sounds great @MaidenheadRegen pic.twitter.com/jjoKYrAmbz

— Simon Dudley (@MrSimonDudley) April 9, 2019
The letter, which Dudley has now posted on Twitter, also revealed Crossrail would be hosting a "high-level forum" on 14 May where the project team will provide the boroughs it passes through with an update on the scheme's progress.
Transport minister Andrew Jones, London's deputy mayor Heidi Alexander, Transport for London commissioner Mike Brown and Crossrail chief executive Mark Wild are all due to join Meggs and Raynsford at the forum set to be held at TfL's office at 55 Broadway above St James's Park tube station.
Crossrail had been due to open last December but Wild has since said he has no idea when it will be completed with an opening window due out by the end of this month.