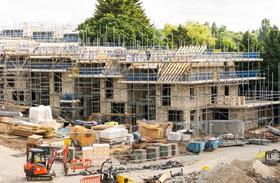 Morgan Sindall and Hertfordshire county council have formed a £2bn partnership to deliver housing across the region.
The Chalkdene Developments partnership, which will be formed by the council's own property company Herts Living and a subsidiary of Morgan Sindall Investments, is set to run for 15 years, with the option to extend it for another five.
The 50:50 partnership will provide new homes and jobs across the county through a series of housing-led developments on the council's surplus land.
Initially, the partnership will focus on 12 locations and have the capacity to deliver more than 500 properties.
Throughout the procurement process it was established this could extend this to 40 sites with a gross development value of up to £2bn.
Other businesses from within the Morgan Sindall Group, such as homes developer Lovell and the company's construction and infrastructure arms, will also be involved in the partnerships, to enable the works to be delivered at pace.
Cenkos analyst Kevin Cammack said: "The win is notable in that it marks the first success for its Investment division since management announced its new growth intentions in February."
The development partnership also has the potential to deliver schemes under the government's One Public Estate initiative and on behalf of other public sector authorities in the region as well as the county council.