Exclusive: Morgan Sindall beats rivals to take batch of private finance schools in the North-west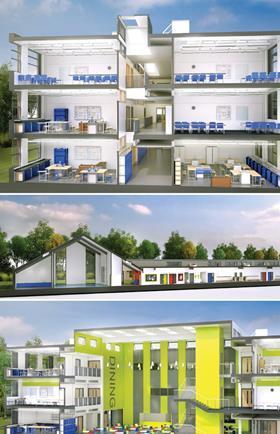 Morgan Sindall has been chosen as the main contractor for a £120m batch of private finance schools in the North-west of England, Building can reveal.
It is understood that Morgan Sindall's joint venutre with Equitix has seen of competition from Laing O'Rourke and Vinci Construction for the batch of schools, which came to market through the private finance element (Pf2) of the Priority Schools Building Programme (PSBP).
The batch, which comprises 12 schools, is the third of five batches of privately-financed schools to come to market through the PSBP (see box below).
Update: The Education Funding Agency (EFA) has now confirmed it has appointed the Morgan Sindall and Equitix joint venture as the selected bidder for the batch of schools, which it said was worth £80m-£120m.
The EFA said the batch comprises five secondary schools and seven primary schools.
The EFA said under the Pf2 deal Morgan Sindall would be responsible for the design and construction of the schools as well as the provision of maintenance and lifecycle services over a 25 year period.
The EFA and Morgan Sindall will now enter into a seven month detailed design stage through to financial close, which is expected in March 2015.
Construction is due to start from March 2015 with all planned completions due by September 2017 or earlier.
The secondary schools in this batch are:
Blacon High School, Blacon
The Deanery Church of England High School and Sixth Form College, Wigan
Neston High School, Neston
Ridgeway High School, Prenton
South Shore Academy, Blackpool
The primary schools in this batch are:
Bedford Drive Primary School, Birkenhead
Bridge Hall Primary School, Stockport
Dee Point Primary School, Blacon
Halebank Primary School, Halebank, Halton
Hawes Side Primary School, Blackpool
JH Godwin Primary School, Blacon
Plymouth Grove Primary School, Manchester
Pf2 priority schools batches
Hertfordshire, Luton, Reading - £150m
Winner: Interserve-Kajima
Shortlisted: Wates; Morgan Sindall
North-east - £120m
Winner: Miller Construction
Shortlist: Sir Robert McAlpine; Laing O'Rourke
North-west - £93m
Winner: Morgan Sindall
Shortlisted: Laing O'Rourke; Vinci
Yorkshire - £120m
Shortlist: Bam Construction; Morgan Sindall; Laing O'Rourke.
Midlands - £150m
Shortlist: Bam Construction; Carillion and Equitix; Interserve and Kajima