Contractor will rebuild GlaxoSmithKline Carbon Neutral Laboratory after autumn blaze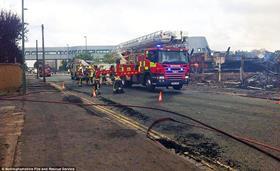 Contractor Morgan Sindall will restart construction of a burnt down £20m Nottingham University laboratory in the New Year.
Morgan Sindall had almost completed construction of the GalxoSmithKline Carbon Neutral Laboratory when a blaze razed it to the ground in September.
In an update the university said building will be rebuilt to the same design and is set to open in early 2016.
A spokesman for the University of Nottingham said: "We can confirm that our contractor has been working on the Jubilee Campus for a couple of weeks to clear the fire debris from the site where the fire took place in September in preparation for rebuild work.
"We are hopeful that the delay to the project will be no more than 12 months in total, although this is still to be confirmed.
"We are currently planning rebuild activity and will be making an announcement shortly as to when this will commence. The rebuild planning is based on the same design principles and construction materials to deliver a carbon-neutral sustainable chemistry laboratory building."