Practice pipped Alison Brooks and Maccreanor Lavington to win prestigious job
Morris & Company and Freehaus have triumphed in a competition to design an overhaul of the City of London School.
The team pipped shortlisted rivals Buckley Gray Yeoman to win best in class on the contest to design an extension and reimagine the interior spaces of one of the capital's most prestigious schools.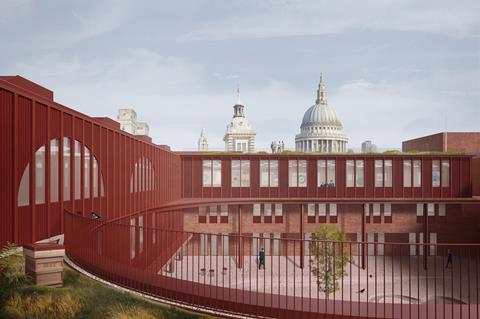 Some 71 teams responded to the call for entries, with firms including Maccreanor Lavington and Alison Brooks Architects also making it to the final shortlist of seven.
Founded in the 15th century, the 900-place school was originally located on Milk Street in the heart of the City before moving to Victoria Embankment in 1883.
It relocated to its current postmodern riverside premises next to the Millennium Bridge – which were built above a road tunnel – in 1986.
The competition brief called for a project that would be net zero in construction and asked entrants to look at how the school's facilities could most efficiently and creatively support the school with increased pupil numbers and curricular needs.
The City of London Corporation, which launched the competition with New London Architecture, said that Morris & Company and Freehaus' submission opened up the circulation spaces of the existing building and framed views out to St Paul's Cathedral and across the river to Tate Modern.
The new extension completes the school's existing quadrangle and includes a new atrium bringing light to the pupil entrance, with its rooftops allowing further future expansion.
The competition covered the second, third and fourth phases of a wider rejig that was masterplanned by Tim Ronalds Architects in 2019, which also designed the £2.2m first phase to spruce up a pair of squash courts and a fencing hall.