UK firm makes purchase to tackle major projects in the region and move into water and property sectors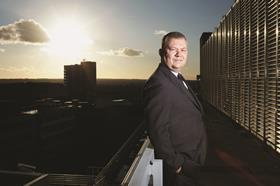 Engineering consultant Mott MacDonald has bought a 600-strong South African consultant in a move to enable it to take on major projects in the region.
PD Naidoo & Associates (PDNA) has been trading in Africa for 26 years and currently has a strong presence in the water, power, mining, infrastructure and buildings sectors.
Speaking to Building, Keith Howells (pictured), chair of Mott MacDonald Group, said the acquisition would double the firm's South African turnover, which currently stands at £32m.
He added: "We have built up to a team of around 250 people in South Africa but it's sub-critical [mass]. It's too small to be credible in dealing with big projects.
"They [PDNA] also take us into some sectors where we are not working such as water and property. That gets us beyond the power and transport sectors where we are very focused at the moment."
He said he expected the water, power and transport sector to present significant opportunities for the now 850-strong arm of the firm in the immediate future.
Howells said he wanted to target projects such as the proposed North-South link road, which aims to connect multiple countries in sub-Saharan Africa.
The acquisition follows that of 80-strong Brazilian environmental consultant Habtec, last week.
Howells had previously said he wanted to break into Latin America. Speaking about the acquisition he said: "It gives us a foot on the ground [which is important because] it's very difficult to understand how business in other countries works from afar."
He said the firm would be looking to make further acquisitions to bolster its position in Brazil.
However, Howells denied that the two recent acquisitions were intended to fatten the firm up for a merger. He said: "We do get approaches from time to time but they have to make strategic sense. There's nothing that has made sense to us really."