State minister says Australian city should be "embracing" UK architect's design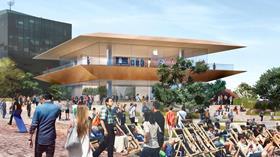 Foster + Partners' controversial Apple store in Melbourne is set to go-ahead after a last minute attempt to ditch the project was blocked in the Victorian Government's upper house.
Victorian Greens leader Samantha Ratnam lost a disallowance motion seeking to "revoke the planning approvals for the demolition of the Yarra building at Federation Square and the construction of an Apple megastore". The motion was defeated 34-4.
While voting to allow the project, shadow planning minister David Davis was critical of the government's "secretive" approach to the planning process.
The upper house vote followed an hour-long contribution from Victorian innovation minister Philip Dalidakis, which Davis labelled "a rant by any description".
Dalidakis said the government had considered other sites for the store before selecting Federation Square.
He also sung the praises of Foster's, saying it was an honour for the city to have buildings by the firm.
He said: "Let me tell you that we should be very proud to have a Foster + Partners designed building in Melbourne. Foster + Partners is one of the leading – one of the pre-eminent – architectural firms globally.
"To have a Foster + Partners-designed building here is something that we should applaud, not denigrate. It is something that we should embrace, not eschew. It is something that we should get up and sing from the rooftops about. We should have it here, not scare it away."
A fortnight ago the Melbourne City council's Future Melbourne Committee said the Victorian state government had approved the demolition of a building earmarked for the Apple store – without public consultation.
In a debate on the plans, the council said it had asked the state government to redesign the store "to avoid [the current] pavilion or temple-like design that is out of context in Federation Square and poorly integrated with the square's existing architecture".
The state government approved the plans for the contentious development after a heated Cabinet debate at the end of December.
Three senior ministers, including Victorian planning minister Dick Wynne, argued against approving the plans but they were overruled meaning Wynne OK'd the scheme in the end.
His approval meant the city council was bypassed in the planning process.