Transport secretary admits accountant was simultaneously working for contractor and HS2 which awarded bust firm huge contract last summer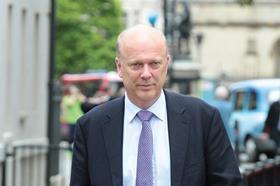 The MPs behind the inquiry into Carillion's collapse have asked transport secretary Chris Grayling to explain an "apparent conflict of interest" in the process of awarding Carillion a contract for work on HS2 last year.
Business chair Rachel Reeves and her co-chair Frank Field, who leads the work and pensions committee, wrote to Grayling (pictured), following correspondence between him and the transport committee last week.
The letter indicates that, following Carillion's massive July 2017 contract writedown, HS2 hired EY to "carry out due diligence checks" on Carillion's financial standing ahead of the award of contracts.
In the same month, and in response to the same profit warning, Carillion appointed EY to restructure the company.
The letter, which has been published, put 11 questions to Grayling (pictured), seeking clarity in regard to the conflict of interest, which "due diligence checks" were carried out and how Carillion performed against those checks.
The first question the inquiry co-chairs asked the transport secretary was: "Were you aware that EY was simultaneously advising Carillion on its finances, and HS2 Ltd on the state of Carillion's finances?"
In total, EY billed Carillion over £13m for its restructuring work between July 2017 and January 2018. Of this, £10.8m was paid, including £2.5m on the last working day before the company collapsed. Lee Watson, an EY Partner, was seconded to the Carillion board of directors as chief transformation officer in September last year.
At the same time, EY's evidence to the joint committees' inquiry into the collapse of Carillion show the firm was paid approximately £29,000 by government for their work assessing Carillion's financial fitness in fulfilling the HS2 contract.
Last week, the MPs released the findings of their inquiry, including a call for government to commission a review into the statutory audit market.
They recommended the Competition and Markets Authority consider breaking up the Big Four accounting firms.