Select committee says governement should do more to support smaller builders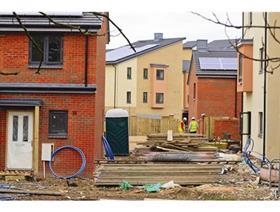 An investigation by MPs into the housebuilding sector has called for the dominance of the large housebuilders to end in order to fix the UK's "broken" housing market.
The House of Commons' communities select committee said it had found that the eight largest firms were building over half of all new homes in the country, which it argued made the industry over-reliant on an "alarmingly small number of commercial actors".
The report added that while no evidence of landbanking by the housebuilders had been found there was little incentive for them to build quicker.
In addition, the committee said land was in such high demand in some areas that developers were paying over the odds, which in turn meant they were having to increase the density of homes on schemes and reduce levels of affordable housing to recover their investment.
Developers were also building more slowly so as not to saturate the market and lower house prices, the report said, and recommended the case be examined for public intervention.
To stop firms' dominance, MPs said the government needs to support small and medium builders and called for local authorities and housing associations to increase their building activities.
The committee's chairman Labour MP Clive Betts said: "The housing market is broken, we are simply not building enough homes.
"Smaller builders are in decline and the sector is over reliant on an alarmingly small number of high volume developers, driven by commercial self-interest and with little incentive to build any quicker. If we are to build the homes that the country so desperately needs, for sale and for rent, then this dominance must end."
The committee also said the biggest challenge facing the sector was skills shortages and said the government needed to improve routes into the industry at school level, as well as support modern methods of construction.
Cast chief executive Mark Farmer, the author of last year's government-commissioned review into the construction industry, said: "The conclusions confirm, as has the recent white paper, that the housing market is broken, and to fix it we need a robust, innovative and productive construction industry.
"What is noteworthy in the recommendations is clear select committee recognition that we need more diversity in the market, both in terms of tenure and the delivery models employed and this must only be a good thing."
Responding to the report, the Home Builders Federation said: "The vast majority of the big increases in housing supply in recent years have come from the larger, mainstream builders - but we need more builders of all sizes and specialisms if we are to tackle our acute housing shortage."