Victory for campaigners as MPs vote overwhelmingly for documents relating to 1972 building workers' strike to be made public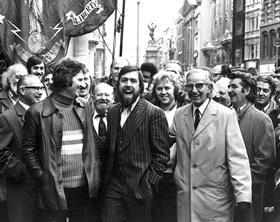 MPs have voted by a huge margin in favour of urging the government to release papers on a 1972 construction workers strike which led to six pickets being jailed, among them actor Ricky Tomlinson.
Following a debate by the Backbench Business Committee last week, MPs voted by 120 to three to call on the government to release the papers, which are being kept secret on the grounds of national security despite being more than 40 years old.
Campaigners for the so-called 'Shrewsbury 24' say the 24 men - who were accused of violent picketing and intimidating workers in Shropshire, in 1972 - are victims of a miscarriage of justice and are calling for their convictions to be quashed.
Last month, they took a 100,000-signature petition calling for the men to be cleared to 10 Downing Street.
The workers were arrested five months after the 1972 building workers' strike and charged under the 1875 Conspiracy Act.
Shadow justice secretary Sadiq Khan told Building: "I commend those campaigners who've fought tirelessly for many years to have the papers on the Shrewsbury 24 made public.
"We believe it's long overdue that information that could help all of those involved back in 1972 get closure should be made public and we are calling on the government to do so"
In an interview with BBC Look North ahead of the vote on Wednesday Tomlinson - famous in later life for his role as Jim Royle in TV comedy the Royle Family – spoke about his arrest and the effect this had on him.
"They [the police] came one night as my wife was bathing the two lads in front of the fire.
"I was whizzed off to the local police station and because I had never been in trouble with the police I had no experience of anything like this, I was appalled.
"We were taken in a van to Shrewsbury with police in front and behind, police cars with Alsatian dogs and motorbike out-riders.
"Got to the police station in Shrewsbury, we were fingerprinted, photographed, it was surreal, absolutely surreal and to find out I had 21 charges against me for doing everything bar robbing the crown jewels - it was ludicrous.
"We have got to have our names cleared…I would like to see some of those people responsible, I would like to see them named and shamed because it was appalling.
"It had a devastating effect on us. It was responsible - not solely for the break-up of my marriage but it played a big part in it."