Former bosses face further scrutiny over claims made last week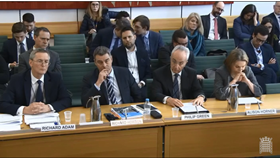 The MPs leading the inquiry into Carillion's collapse have written to former Carillion demanding more details about how and why the company failed .
Labour's Frank Fields, work and pensions committee chair, and his counterpart at the business committee Rachel Reeves have written 13 letters seeking more information on claims made by Carillion directors during the inquiry.
Former chief executive Richard Howson has been asked to provide more detail about the flawed structural beams at Royal Liverpool Hospital, as well more information on £200m of delayed payments for the firm's work in Qatar.
Mshireb, the Qatari developer who employed Carillion, has publically denied owing the firm money when it went bust and has been given the opportunity by the inquiry to formally respond to the claims.
The man who took over from Howson, Keith Cochrane, has been asked to clarify several points, including what the original provision was which he told MPs he had eventually revised up to £845m and why he did so.
The chairs have also written to chairman Philip Green, requesting more information about the "surprise" deterioration in the company's cash flow shown in the September 2017 presentation that Zafar Khan stated had "spooked" the board and led to his dismissal.
Former chief finance Zafar Khan was asked to clarify again the terms of his departure, including whether a non-disclosure agreement was attached to it.
The clients on Carillion's problem jobs have also been approached for more information on how it all went wrong.
Aberdeen Road Ltd, Royal Liverpool Hospital and the Hospital Company, which is behind the Midland Metropolitan Hospital, have all been sent letters requesting details on Carillion's involvement in the projects.
The chairs of the inquiry have also written to several advisers mentioned during the directors testimony for more answers.
Reeves and Fields are seeking more information from lawyers Slaughter and May, financial advisories Lazard and Morgan Stanley, as well as the Crown Commercial Services.