Questions come as number of people in UK to get first dose tops 10 million
MPs want to know if construction workers will be among the first handed doses of the coronavirus vaccine in the next phase of the rollout programme as the number of Briton to get the jab topped 10 million yesterday.
Official figures from across the UK's four nations showed that 374,756 people received a jab on Tuesday, taking the headline total to just over the milestone at 10.02 million, less than two months after the vaccination programme began.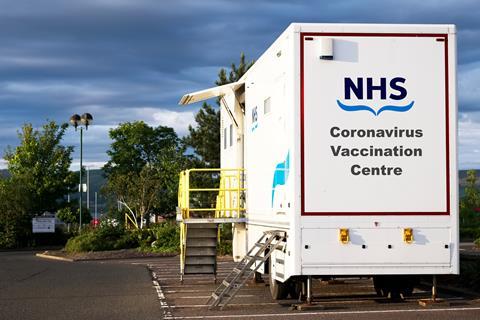 The government has made it clear it wants construction to carry on working during this latest lockdown, raising questions over whether construction workers should be given the jab as a result.
Asked if construction workers would be made a priority in the next round of vaccinations, Nadhim Zahawi, who swapped his role as construction minister in December as minister for the covid-19 vaccine deployment, said the decision would be made by the joint committee on vaccination and immunisation (JCVI) but that those at higher risk of exposure would be considered in the next round of vaccinations.
Zahawi told Tory MP for Romford Andrew Rosindell: "For the first phase, the JCVI has advised that the vaccine be given to care home residents and staff, as well as frontline health and social care workers, then to the rest of the population in order of age and clinical risk factors.
"Prioritisation decisions for next phase delivery are subject to of the surveillance and monitoring data and information from phase one, as well as further input from independent scientific experts such as the JCVI. Phase two may include further reduction in hospitalisation and targeted vaccination of those at high risk of exposure and/or those delivering key public services."
The JCVI are the independent experts who advise the government on which vaccines the United Kingdom should use and provide advice on prioritisation at a population level.
Last week, the NHS trust responsible for the Carillion-delayed Liverpool hospital being completed by Laing O'Rourke has said there is a case for vaccinating staff working on the project, given the potential impact covid breakouts could have on productivity.
Several contractors been working on the government's programme to deliver hundreds of covid-19 vaccination centres including Interserve which has recently completed work turning a former TV studio in Nottingham into a centre.
If the current rate of vaccinations is continued then the UK will be on track to give a dose to the 15 million people in the top four priority groups by the middle of this month and complete the remaining five priority groups, another 17m people, in early April, before the second round of jabs begins.
The figure means the UK has offered a first dose of a Covid-19 vaccine to about 15% of its population although health secretary Matt Hancock warned the rate-limiting factor going forward will be supply of enough vaccine.