Hunt for a replacement contractor for the commercial element of the scheme is underway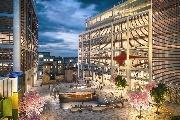 Multiplex is to be replaced on the £750m mixed-use scheme The Stage on the site of William Shakespeare's Curtin Theatre in Shoreditch after failing to agree terms for the main contract.
The contractor will complete enabling works at the site for the commercial element of the scheme before leaving.
The project designed by Perkins + Will consists of a 37-storey residential tower and two office buildings and restaurants and cafes built around a new public square, which showcases the sunken remains of Shakespeare's Tudor theatre.
It was due to complete 2019, but the schedule was pushed back a year to 2020 after the extent of the archaelogical works was determined, a spokesperson for the scheme said.
The project is being delivered by a consortium led by Cain International and including Galliard Homes, MG Properties, The Estate Office Shoreditch, Investec Structured Property Finance and Vanke.
A spokesperson for the development said: "I can confirm that Multiplex was contracted and will complete the early works at The Stage but will not be engaged as main contractor on the commercial element of the development as the parties were unable to agree terms for the main contract.
"The consortium behind the scheme is currently pursuing an alternative course for the delivery of this aspect of the project. The residential element of the project will continue under the guidance of our partners Galliard, and the change in contractor is not expected to affect the schedule."