Failed deal leaves 2,500 jobs at risk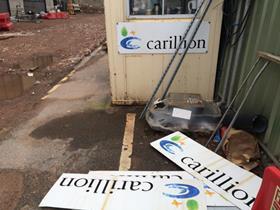 The Canadian company that owns Multiplex has withdrawn from a deal to taking over dozens of FM contracts previously managed by Carillion in the UK barely a month after signalling it would take on the schemes.
Around 2,500 former Carillion staff that were set to be transferred to BGIS' team have been left in limbo by BGIS' withdrawal.
In the middle of February BGIS, a Brookfield subsidiary, said it has struck a deal to buy "a large portfolio of Carillion FM contracts in the UK".
At the time BGIS chief executive Gord Hicks said: "We are excited to welcome the more than 2,500 Carillion employees that will join the BGIS team upon closing. This deal provides continuity of services for a large number of customers providing critical infrastructure within the UK market."
But a stock exchange announcement issued on 9 March confirmed the deal had fallen through.
The company said "its previously announced agreement to acquire a portfolio of Carillion facility management contracts in the United Kingdom will not be proceeding, as certain closing conditions have not been met".
Hicks said the firm was still pursuing opportunities to expand in the UK.
"While we are disappointed at this outcome, we are continuing to pursue opportunities to grow our global business into the U.K. and welcome continued dialogue with prospective customers as we build out our platform for future growth opportunities."
As the deal had never been signed its failure does not impact the Insolvency Service's Carillion redundancy figures.
To date, 8,216 jobs have been saved while 1,458 people have lost their jobs. Another 7,500 employees, including the 2,500 who were set to transfer to BSIG, are still in limbo.
Prior to its collapse in January Carillion employed more than 40,000 staff globally around half of whom worked in the UK. Its head office in Wolverhampton had around 400 staff.
BGIS has over 7,000 employees and looks after more than 320 million sq ft of space covering 30,000 locations around the world including North America, Europe and the Middle East.
Brookfield bought Multiplex, set up in Perth, Australia, by the late John Roberts in the early 1960s, from the founding Roberts family back in 2007.