The contractor also has a pipeline worth nearly £1bn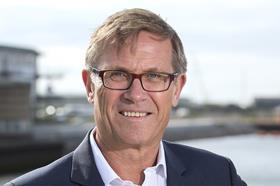 Infrastructure specialist Murphy has bounced back into the black and set out plans to more than double in size by 2025.
Murphy chief executive Steve Hollingshead (pictured) said the firm is targeting more than doubling in size to £2bn revenue by 2025 as part of a ten-year expansion plan.
The contractor posted a £13.8m profit in the 2015 calendar year, after posting a £9.7m loss the previous year. Turnover dipped 2% to £647m, down from £658m.
Murphy attributed last year's loss to problems on an east London combined heat and power plant.
The firm's director Bernard Murphy said the project suffered "difficulties with design, cost escalation, supply chain and engine related technical breakdowns" which he said "over shadowed what was otherwise a very satisfactory year".
The firm attributed the reduction to a drop in activity at its Australian JV Pipe and Civil Pty resulting from the slowdown in the Australian economy, as well as a reduction in activity in the UK and Ireland as projects the firm was on completed.
The contractor also reported a pipeline approaching the £1bn mark and said it was on course to meet expectations for the current financial year.
"Economic confidence is returning to our core markets," Murphy chairman Alastair Kerr said, adding that the contractor continued to "benefit" from the government's increasing investment in infrastructure.