Firms have until next month to register interest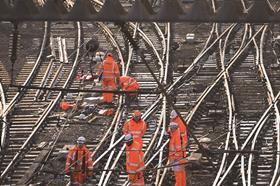 Network Rail has given firms until next month to register interest in a huge programme of works being let under its new £1.9bn framework.
It is on the search for three contractors to take up spots on the framework that covers works across Scotland and the North East region.
Lot one, the largest of the three on offer, covers buildings and structures works across the Scotland and the North of England.
It has an indicative value of £320m over the life of the framework, with the maximum value of works which may be awarded to the lot one supplier being £950m.
The second spot will focus on structure works predominantly across the Scotland route with a requirement to deliver enhancements and buildings. It is worth between £135m and £450m.
The framework's third lot is worth between £190m and £500m, and covers enhancement and building works across the North of England.
In its contract notice, the network operator says it will award work to other firms on the framework if one of the winners went bust. At the time it went under, Carillion was Network Rail's second largest supplier.
In the description of the value and works to be covered by lot one, Network rail said that under "exceptional circumstances, including but not limited to, the insolvency of a framework supplier or termination of a framework contract for one of the other lots, NR may award further works (i.e. works with a value beyond £950m) to the lot one supplier".
Contractors are being invited to tender for a maximum of two lots, on the framework which will run from 1 January 2019 to 31 March 2025.
While contractors, which includes joint ventures, can tender for up to two lots, a single supplier can only be awarded one spot on the framework.
Bidders have until 19 March to register their interest, with invitations to tender expected to be sent out in the coming months.