Clients could change for firms involved in rail sector under plans unveiled by government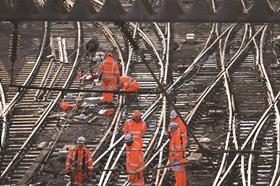 Network Rail will lose complete control of its railways under plans unveiled today by transport secretary Chris Grayling to bring track and train operations closer together.
As part of the plans, clients for construction firms in the rail sector could change, with rail franchises set to be run by joint management teams comprising representatives of the train operating company and Network Rail.
Each rail franchise will be run by a joint team but Network Rail and the train operating companies will continue to exist separately.
The government said the plans are aimed at improving services for passengers, which will be helped under the plans due to the "closer alignment of incentives" between managing rail infrastructure and operating train services.
Grayling said: "Our railways need to adapt and change in order to be able to cope with the growth that they have already experienced, and that which lies ahead.
"We need a railway which is sustainable in all senses of the word."
The first of the new franchises will be let in 2018 on the South Eastern and East Midlands lines, which will be expected to include integrated operating teams between train services and infrastructure.
The new approach could also be applied to the £530m East West rail link between Oxford and Cambridge, which will use part of the former 'Varsity Line' that ran between the two cities until the 1960s.
A new body called East West Rail, which is separate from Network Rail, will deliver the design, construction and operation of the link between Oxford and Cambridge.
Grayling is expected to announce more details on the proposed rail franchises this evening in a speech at the Policy Exchange think-tank in London.
Alasdair Reisner, chief executive of the Civil Engineering Contractors' Association, said the plans are likely to affect operation and maintenance jobs more than major rail upgrades. He added that train operating companies would have to show the same commitment as Network Rail to successfully run a rail franchise.
He said: "Any new customers would have to demonstrate best practice like Network Rail, not a hard-nose adversarial approach focused on lowest cost and passing all of the risk down the supply chain."