Hodder & Partners' revision of Manchester United stars' scheme goes in for planning
Former Manchester United players Gary Neville and Ryan Giggs have submitted their redesigned proposals for a huge hotel, residential and office development in Manchester city centre.
The Premiership stars-turned property developers pulled a Make-designed incarnation of their proposals from the planning process earlier this year after the 21- and 31-storey twin towers provoked controversy on multiple fronts.
Hodder & Partners was subsequently appointed to the development, known as "St Michael's" and has drawn up an alternative version focused on a single 40-storey block that would house up to 189 apartments and a 216-room hotel. A separate 10-storey block would deliver 13,721sq m of new commercial space.
The earlier proposals came under fire for their impact on Manchester's skyline and the need to demolish historic buildings including 19th-century pub the Sir Ralph Abercromby, Bootle Street Police Station and the Manchester Reform Synagogue.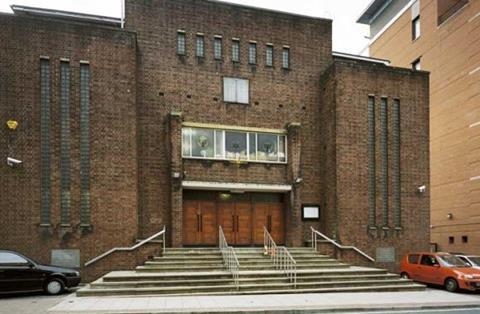 Historic England said Make's scheme would "irreparably damage the special character of the surrounding conservation area" while Save Britain's Heritage called it "a blot on the centre of one of Britain's greatest cities of a magnitude not seen in decades".
Under the Hodder proposals the pub will be retained, as will the Portland Stone façade of the police station, which will be converted into a 30-room boutique hotel.
The synagogue, which dates back to the early 1950s, will still be demolished as part of the new proposals, however a replacement is proposed for the podium of the scheme's main tower.
Historic England said that while it welcomed the retention of the pub and the police station facade it still had some reservations about the scheme. Concerns centre on the visual impact of the 40 storey tower on three grade 1 listed buildings, St Ann's Church, the Town Hall and in particular the Prince Albert memorial in Albert Square. English Heritage described the impact on these buildings as 'less than substantial' but said 'clear and convincing justification' for the scheme was necessary because of their significance.
In a letter accompanying the revised application, project planning consultant Mike Ralph – of Zerum Consult – acknowledged that the scheme had "evolved as a result of feedback received from interested parties".
But he added: "The general quantum of development, proposed uses and characteristics of the amended scheme follow the same principles as the scheme originally submitted and therefore it has been agreed as acceptable for the current application to be amended."
Manchester city council is accepting public comments on the latest incarnation of the scheme until January 31.