Total new orders show second consecutive quarter-on-quarter increase, but infrastructure falls 15%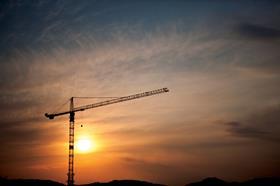 Total orders across the construction industry rose increased for the second consecutive quarter at the end of 2012, but are still down 38% on their 2007 peak, the latest Office for National Statistics figures showed.
The statistics released this morning showed the total volume of new orders was up by 3.4% (£370m) in the fourth quarter of 2012, compared with the third quarter, and up 11% (£1.1bn) compared to the fourth quarter of 2011.
It was the second consecutive quarter-on-quarter increase, after a rise of 9.5% between Q3 and Q4 2012, and was the highest level of total new orders since Q1 2011, but was still down 38% on the Q2 2007 peak.
The data showed five out of six sectors improved on the previous quarter, with private commercial and other work increasing 9.7% (£270m) and private new housing increasing 10.3% (£230m).
Public new housing orders increased 9% compared to the previous quarter (£60m) and by 47% (£220m) compared with the Q4 2011.
Only infrastructure showed a decline when compared with the previous quarter, falling 15.4% (£420m).
Simon Rawlinson, EC Harris head of strategic research, said the most "eye-catching" element of the data was the upwards revision of third quarter figures, which meant that overall 2012 saw a marginal increase in new orders of 0.4%.
He added: "Two quarters of continued growth in orders have not been recorded since 2009, but the statistic is notoriously volatile, so it is best not to read too much into the trends.
"However, given that the construction industry is a sector starved of good news, this data will provide some relief to everyone in the industry."