All resi buildings above six storeys will now be covered by new regulator, while buildings above 11m will need sprinklers
A new government fire safety regime for residential buildings will cover all buildings above six storeys, and will see sprinklers banned on all buildings above 11m, the government said today.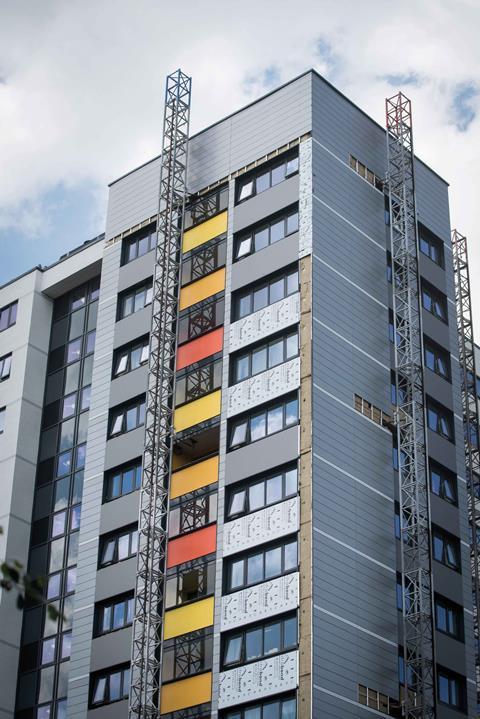 Publishing a raft of announcements on fire safety, including the government's response to its consultation on the creation of a whole new system of fire safety regulation, housing secretary Robert Jenrick said the new regime will apply to all buildings of six storeys or more, even when they are below 18m in height.
Previously the government had said the new regime, which will be governed by a wholly new Building Safety Regulator with beefed up powers to ensure safe working, will only cover buildings at or above 18m in height.
In its response today the government said the plan now was to retain that threshold, but also include any other buildings of six storeys or more which are less than 18m tall. It said, in addition, that the regime would "in due course, extend to include other premises, based on emerging risk evidence."
The impact assessment published by the government said this extension was likely to mean the regime would increase the cost on industry of meeting the regulation by about 10% above that previously envisaged.
Jenrick also said the ministry will in May effectively ensure the installation of sprinklers on all residential buildings above 11m in height via an amendment to Approved Document B, the building regulations guidance which covers fire safety. This amendment will also call for improved and consistent signage in those buildings to help residents evacuate in the case of a fire.
Housing Secretary Robert Jenrick said the change represented the biggest change in building safety for a generation. He said: "This new regime will put residents' safety at its heart, and follows the announcement of the unprecedented £1 billion fund for removing unsafe cladding from high-rise buildings in the Budget."
Jenrick also set out a series of initiatives with the RICS and mortgage lenders designed to ensure that those living in existing buildings with cladding now deemed to be unsafe were able to access mortgages and insurance.
The government's proposed new building safety regime will see the imposition of a three-stage "gateway review" process for all new projects, overseen by the new regulator, with clear legal duties to comply with regulations placed on clients, designers and contractors.
Dame Judith Hackitt, former Health and Safety Executive chair and author of the government's review of fire safety regulation after the Grenfell Tower fire, has already been appointed to lead the new regulator in its set up phase.
The new regulatory system will be backed by much more stringent enforcement measures, with the regulator able to stop work on site, and criminal sanctions for breaches of directions by the regulator.