Rebecca Thompson is the second woman to assume the role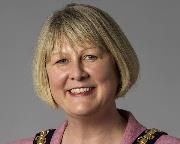 Rebecca Thompson has taken over as the president of the Chartered Institute of Building (CIOB).
Thompson, a specialist in heritage conservation and lecturer in building studies, becomes the 114th president of institution and the second woman to the position.
She is currently a lecturer in Building Studies at York College and runs Thompson Heritage Consultancy Ltd, but began her construction career as quantity surveyor at Shepherd Construction and has spent seven years at York Minster as superintendent of works and then as chapter steward.
Thompson plans to use her presidency to promote inclusivity, training and development of the heritage and conservation field and as a platform to remind people of the responsibility building professionals bear for preserving the culture and history that is contained in buildings.
Thompson said: "At the heart of diversity is inclusion.
"It's an attitude of 'How can I make the work environment more conducive to people doing a good job', regardless of their gender, ethnic background, or any disability."
"The better we make our industry – the more professional we are – the more we will attract young people. We have a tremendous offer: a career in which one can go back to a building years later and say, I helped build that."
She added: "Buildings do tend to take on a life of their own. Most of them outlast us all, carrying on to subsequent generations the original vision and values. And so they shape us, and as Churchill put it, regulate the course of our lives."
Chris Soffe, president and chief executive of consultant Gleeds Americas, has become senior vice president of the insitute and will be Thompson's understudy.
He will continue to sit on the CIOB's board of trustees and will chair the resources committee with an eye on the compliance requirements of the Charity Commission and the Royal Charter.
Soffe said: "I am extremely honored to be given this opportunity and am looking forward to supporting Rebecca, the chief executive and the board of trustees in promoting the institute and the impact we have on the built environment.
"I am also very keen to get more involved in supporting our professional and vocational qualifications, both in schools and universities. The industry needs to get many more young people interested in construction professions in what are now fast moving, exciting, technology oriented career paths".
Established in 1834 the CIOB today is the world's largest professional body for construction management and leadership, with over 46,000 members.