Developer Moda Living also plans another big PRS tower in Birmingham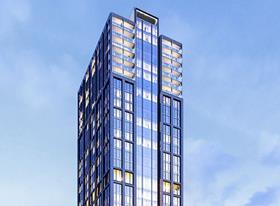 Property developer Moda Living has won planning for an £82m New York-inspired PRS tower in Liverpool.
The 34-storey scheme, purpose built for the private rented sector, will be the tallest residential tower on Liverpool's waterfront, which is recognised by UNESCO as a world heritage site.
Designed by Falconer Chester Hall architects, the building called The Lexington is based on the building of the same name in New York.
It will have 304 apartments and also include a roof terrace, garden, gym, fitness studio and an indoor/outdoor cinema.
Moda Living and its funding partner Apache Capital will retain ownership of the property and operate it through their joint venture.
The JV said the business model will "ensure the creation of a genuine long-term community and investment platform."
It comes after Moda and Apache also announced plans for another £145m PRS tower in Birmingham.
Based on initial designs by Glenn Howells Architects, the 37-storey project will contain 450 apartments, as well as features including a roof terrace with a 200m running track and landscaped gardens.
The joint venture will also keep ownership of the building and operate it through the JV.
The Birmingham scheme is one of the city's largest post-Brexit property transactions.