Trust forced to shell out on remedial works after original contractor Carillion went bust last year
The NHS trust behind the Liverpool hospital stalled by Carillion's collapse has said it is considering legal action to recoup costs.
Papers published ahead of this week's meeting of the board of the Royal Liverpool and Broadgreen University Hospitals NHS trust reveal that the organisation is looking into ways of reclaiming the money it has had to spend on remedial works.
Since Carillion collapsed at the start of last year the trust has confirmed a host of problems that need to be rectified including replacing non-compliant cladding, fixing cracks in structural concrete beams and issues with the ventilation system in the anaesthetic rooms in theatres needed to be fixed.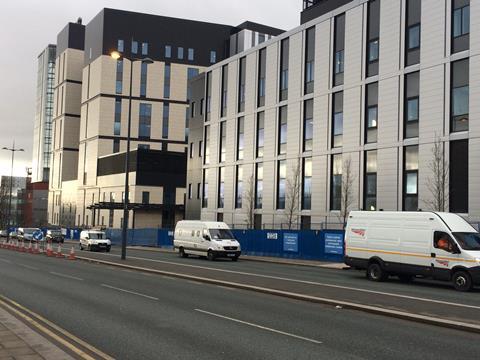 Now the papers, which included minutes from the board's previous meeting, have revealed Paul Bradshaw, the trust's finance director, is looking into legal action which could be pursued to clawback cash.
The papers said: "It was asked whether the trust was pursuing legal claims in order to recover costs of remedial works on the new Royal.
"PB [Paul Bradshaw] confirmed that the trust was reviewing the available options with its legal advisers."
As part of the same report, the trust's chief executive Peter Williams said the final business case for the project, which is now being built by Laing O'Rourke, was nearing completion and it was expected to be brought to the trust's board in September for approval.
Williams said: "Work has begun to address the structural issues and we are taking great care to ensure that there is appropriate scrutiny and governance of this project which the trust is now responsible for.
"For instance, we are strengthening our team and are currently in a procurement process for a Clerk of Works; this is no longer an individual but a team of experts from architectural and engineering consultancies."
He also said the trust was procuring more than 140 works packages covering everything from structural works to taps.
Williams said that several packages required approval the NHSI – the body responsible for looking after NHS trusts.