But deadline already in doubt after delays to sign off plan to allow Balfour Beatty to complete Birmingham scheme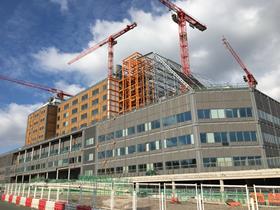 The NHS trust behind the Birmingham hospital stalled by Carillion's collapse last year has said it wants the scheme up and running by the start of the Commonwealth Games in 2022.
But Sandwell and West Birmingham Hospitals NHS trust faces a race against time with papers published ahead of its latest board meeting revealing that the plan to complete the half-built scheme (pictured) should have been given the green light at the end of June.
Balfour Beatty is preferred bidder for the job and trust chief executive Toby Lewis admitted: "There is, of course, considerable urgency to finalise a contract with our preferred bidder, in order to secure the offered price and achieve the programme that will deliver the hospital open before the Commonwealth Games."
The trust is not able to sign the main contractor deal with Balfour Beatty until the plan to complete it is agreed.
The papers said: "We are imminently anticipating approval of the Midland Met final business case by NHS Midlands and the national NHSI process. This had been due in late June.
"[The department of health] have indicated that they have concluded their analysis of the case that we issued in mid-May and their support for the scheme to proceed to Treasury officials is awaited."
The Commonwealth Games are due to start in Birmingham at the end of July 2022.