BDG to carry out interior design work for US sportswear giant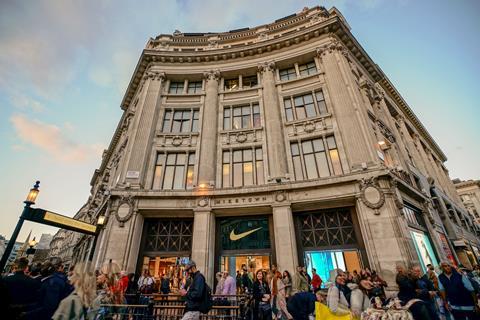 Nike has chosen the architect which worked on the revamp of Sea Containers House on London's South Bank to design the interiors of its new London HQ.
London-based workplace specialist BDG is set to carry out the deal for the US sportswear giant's new UK base ahead of it moving out of its current home in 18 months' time.
Nike is leaving its address on Wardour Street when its lease runs out in 2020. The office in Soho is a stone's throw away from its flagship Oxford Street Nike Town store (pictured above).
BDG chief creative officer Colin MacGadie said: "We look forward to becoming immersed in the Nike brand and collaborating with the client."
Nike has not publicly revealed where it is swapping Soho for but MacGadie said the deal for the firm, which has global revenues in excess of $25bn, caps off a "very successful year" for the firm.
BDG has also worked with Lego, MoneySuperMarket (pictured below) and Sony Pictures in the past 12 months.