Moorside plant in Cumbria thrown a lifeline after majority owner Toshiba agrees to sell its stake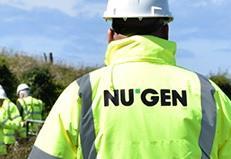 The boss of the company which is behind a planned £10bn nuclear power station in Cumbria has warned a South Korean firm's bid to take over Toshiba's stake in the business is still not a done deal.
Yesterday, the Japanese giant, which has been struggling with huge losses on two atomic plants in the US, said it had agreed to sell NuGen, the company that has been set up to develop the £10bn Moorside project, to Korea Electric Power Corporation (KEPCO) – the largest electric utility in South Korea.
But NuGen chief executive Tom Samson warned that while the news was "a significant milestone", it was not "yet the conclusion of the transaction. There is still more to be done in the weeks and months ahead to bring that to fruition."
And he added: "We're not going to provide a running commentary in the weeks ahead of what those discussions are going to be but we will continue to work tirelessly to bring these discussions to a successful conclusion so that we can move forward with delivering the Moorside project as soon as possible."
KEPCO still has to get approval from the South Korean government – which owns just over 51% of the business – to go ahead with the deal.
Toshiba's problems in the US triggered the resignation of the company's chairman Shigenori Shiga back in February and led it to look at pulling out of Moorside after saying it would not be involved in the plant's construction.
The troubled US plants, which Toshiba said had racked up losses of $6bn, are the first to be developed in the country for 30 years and use the same AP1000 model reactors that Toshiba had planned to use in the Moorside project.
The site of the proposed Moorside plant is near Sellafield, which was the location of the world's first large scale, commercial nuclear power station.
NuGen is designed to deliver 3.8 GW of electricity per annum into the National Grid.